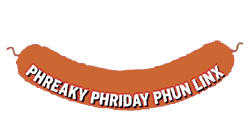 Feb. 20, 1998





Star magazine
Can't get enough celebrity gossip from the kind of tabloid you're embarassed to be caught reading in the checkout line? Now you can read all you want in the Star magazine online. This includes best-dressed celebrities lists, weekly polls and special horoscopes. Get the dirt on your favorite celebs like Leonardo DiCaprio, Kate Winslet and Michelle Pfeiffer.

Lynn's KISS Collection
Fans of the band KISS can be slightly obsessed when it comes to collecting memorabila. Tale Lynn for example. She has KISS dolls, autographs, guitar picks, makeup kits, board games, puzzles, comic books and even a KISS trash can. See her entire mass of KISS kitch on this site.


Have your cake and ice it too. On Cake Decorating magazine, you'll get handy tips on how to ice and decorate all kinds of cakes. Read an article about a bakery for dogs, and learn some wedding cake basics.

Tori Spelling's Official Home Page
The best thing about Beverly Hills 90210 has her own Web site. The site has Tori's biography, film history and even photos of her with brown hair! Send Tori some fan mail, or get the latest news about Tori's film and television appearances.

The Samuel Adams Beer Term Dictionary
Do you know the difference between an American ale and an American malt? What is the process for four-vessel brewing? And what the heck does framboise mean? Look up the answer to these questions and many more in the Samuel Adams Beer Term Dictionary. Before you know it, you'll be speaking like a homebrew pro.

Manic Panic Hair Dye
Blondes might have more fun, but blue hair gets all the attention. Choose from fun colors to make your mom faint such as Cotton Candy Pink, Purple Haze and Shocking Blue. Mix and match to make yourself look like the groovy chick who ran away from the circus to shake things up around Dullsville.