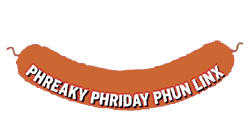 October 4, 1996


Curse in Swedish
Learn how to say "Finish your food, bloody brat!" just like a Swede. With audio files and a handy Swedish/English phrase listing, you'll be on your way to insulting people in a different language. A must site for annoying American tourists!

Phos4 Phun
Nothing beats blowing up a room full of furniture. Here you can watch short movies of 3D chairs, vases, tables and sculptures being blown to smithereens. If you can't stand the M&M guy, don't fret. The twisted minds at this Web site have blown him up as well.

Dead People Server List
If you lie awake at night wondering if the actor who played "Mikey" in Life cereal ads is alive or if cowboy icon Gene Autry is pushing up the daisies, you can finally rest in peace, so to speak. The Dead People Server List tells you if your favorite celebrity has passed away or worse, is alive and doing infomercials. The number one killer on the list seems to be cancer, number two cause is stupidity.

Virtual Presents
Too cheap to buy your friends diamond rings, cars and Hawaii vacations? You can always send them clip art images of what they want through Virtual Presents. Everything from fishing lure to lipstick is on the site, including Porches.

Action Girl's Guide to Female Figures
The next time you walk into a toy store, try counting how many female action figures there are compared to all the Batmans, G.I. Joes and Wolverines. Sarah Dryer has a huge A to Z guide listing girl action figures and where to find them. Some of the faves on the list include La Lunatica, She Hulk, Galaxie Girl and Ooblina. Afterall, we all know Catwoman could beat the cape off of Batman!

The Rockford Files Homepage
Jim Rockford was the kind of private investigator you could really trust your life with, plus he was just so darn sexy in an older-man-from-the-1970s kind of way. Read all the answering machine messages he listened to over the seasons or brush up on your episode summaries. The multimedia section has some cool sound files of Jim talking on his answering machine and of course the groovin' theme song.

Interesting Ideas
Bottle cap art, Jack Chick tracts, Don Knotts and White Castle burgers rule this site of interesting ideas. Excellent essays on the pathetic obsession of nostalgia in "Leave It To Beaver lies" and themes in The Dick Van Dyke Show in "Gentiles in Paradise." Be sure to check out the guide to semitrailers in "Kings of the Road."

Manic Panic Hair Dye
Blondes might have more fun, but blue hair gets all the attention. Choose from fun colors to make your mom faint such as Cotton Candy Pink, Purple Haze and Shocking Blue. Mix and match to make yourself look like the groovy chick who ran away from the circus to shake things up around Dullsville.