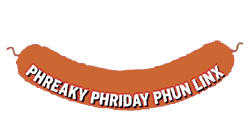 March 6, 1998





The Montage Art of Winston Smith


Who else could manipulate innocent Norman Rockwellesque images into disturbing critiques of sex and violence? It's not every day that you see a cute teenage couple sharing malts and grenades at the neighborhood soda shop. Take a peek at Winston Smith's new art book and see why this pop culture artist known for his bizarre album-cover designs likes to mix nostalgia with a dash of despair.

Rope Warrior
What's balding, wears a leotard and tours talk shows with his jump rope in hand? It's none other than Rope Warrior! Visit his personal Web site to read all about his merchandise and upcoming events. There's also a quote page so you can see what other people have said about his performances.

No Mayo!
Are you always finding yourself saying, "Hold the mayo?" Does the idea of putting that white spread on your bread make you shudder in horror? You are not alone. Many like you want to rid the world of mayonnaise. Charles Memminger despises the condiment so much that he created the I Hate Mayonnaise Club complete with an online newsletter. Read letters from fellow mayo-haters, or admire the bizarre illustrations of mayo as a monster.

The First Video Hamster
Meet a cute, cuddly video star named Bonnie. This is the first hamster celebrity on the Web, and for good reason. See her stuff her face with pellets or roam around her cage with excitement.

Danger Girl
If James Bond were a girl, he'd be Abbey Chase. Read all about Abbey's latest adventures hunting for treasure and beating up bad guys in the latest comic issue. You can even join a mailing list or chat online with other readers. Make sure you browse through the image gallery of Abbey's many looks.

interFACE Pirate Radio
Listen to the best in cutting-edge dance tracks from this London-based pirate radio station. By using RealPlayer you can actually see the DJs spinning records and talking on the mike. Every two hours or so, there's a new DJ showing off his beat-mixing talents. Don't forget to check out the chat room to talk in real time with other listeners.