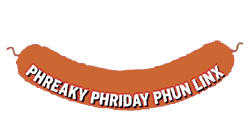 March 13, 1998





Skirt magazine
Looky, looky - it's another girl-related zine. In Skirt magazine, you'll read valuable information collected by editor Nikki Hardin. In the columns section, read girl rants about Olympic coverage, rainy days and political scandals. In the Skirt Cafe, you'll find informational tidbits about paper dolls, activist groups, book reviews, weird moments in women's history and so much more!

She Loves You
The Beatles might have broken a few teenage hearts in their career, but who broke theirs? This site pays tribute to the women who influenced the way the Beatles dressed, acted and sang. Pattie Boyd was cast in the Beatles' movie A Hard Day's Night only to move in with George Harrison three weeks later. And Jane Asher dated Paul McCartney and ended up inspiring the songs "All You Need Is Love" and "And I Love Her."

MABTNG's World of Forensics and The X-Files


How closely do you pay attention to the details during an episode of The X-Files? Do you notice when agents Scully and Mulder tamper with the evidence? Sure, The X-Files is a TV show and not real life, but this fan has dedicated an entire site to help you understand the crucial skills you need to know as a law enforcement agent, including the correct procedures for securing a crime scene. For example, unlike the TV show suggests, agents don't package all the evidence they find in plastic bags. Bloody objects are often put in paper bags where the evidence can air dry. Also, there's apparently no such thing as a routine call or traffic stop. Every stop and call is different because you never know what to expect. Learn more nitpicky items with this handy guide.

Retromodern.com
Need to spruce up your apartment with furniture that could double as modern art? Visit Retromodern.com to shop for vintage-style tableware, mid-century chairs, space-age electronids and Peter Max pillows. The site also features a number of design exhibits on such subjects as inflatable furniture and Memphis lighting.

The Official Judy Blume Site
Judy Blume could very well be one of the most influential writers of the early 1980s. Millions of girls everywhere read about the not-so-perfect lives of teens who had to deal with being ignored by their parents and ridiculed in class. Some adults know her for the racy book "Wifey." On the official site of this famous author, you can read her thoughts on censorship, sex education and rebellion.