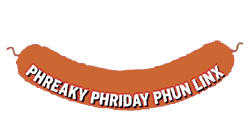 April 3, 1998





Internet Crime Archive
So many crimes, too little time to keep up with them all. Thanks to this archive, you'll be able to read up on all the latest murders across the globe. All the news stories are archived into convenient categories such as serial killers, mass murderers, killer cults, cannibals and criminals on the run.


Wherever there is a UFO, there's sure to be a cover-up right around the corner. Stay in touch with those who believe the truth is out there if you know where to look. The group funds research projects that try to prove alien contact. Currently, they are involved in a Freedom of Information Act lawsuit against the Army based on information in the book "Day After Roswell." CAUS also is funding the first civilian rocket to the moon that will send back live photos to verify alleged artificial structures from Sinus Medii.

The Wooden Bow Tie Company
Silk ties are so boring compared to these hip wooden ones. Priced around $50, these bow ties come in a wide array of colors and tree types. Snazz up a suit with a striped tie made from four different woods. For a bit more dough, the company also will hand-carve custom designs into the bow ties.

Popfolio Concert Gallery
Some people just get really great seats at concerts, and photographer Jennifer Jeffery is one of those folks. Luckily for all of us, she took some nice snapshots of some of the most popular bands around. Visit this site to see excellent concert photos of such performers as Duncan Sheik, Portishead, Beck, Alice Cooper and so many more.

Robots and Space Toys
Be a kid again, and find your favorite space toy here. Take a look at the extensive robot toy gallery which features classics like Astroman, Mr. Atomic and Diamond Planet Robot. There's a chat section and a dealer directory as well so you can network with other collectors.

Coltautos.com
You don't have to be in a militia group to appreciate a nice gun when you see it. On Coltautos.com you can learn all about the different types of pistols such as the 1911 .45 or the 1900 .38. The site explains collector's information as well as disassembly instructions and parts identification.

Brute Propaganda
You'll probably recognize some of Aidan Hughes' illustrations from KMFDM album covers or from the game ZPC (Zero Population Count) by Zombie Virtual Reality Entertainment. Look at his portfolio online to see why his style is so unique.

Pencil Sharpener Collection
These aren't the cheap plastic kind of pencil sharpeners. Johan and Anky collect die cast metal miniature sharpeners and showcase them online. In fact, they have over 300 different pieces to look at.