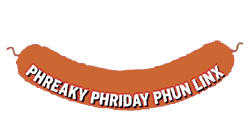 April 24, 1998





Children of the Sandwich Spread
Forget peanut butter and jelly. The really cool kids eat sandwich spread on their white bread. On this fan site, you'll learn why so many folks in England love the taste of Heinz vegetable spread and why the sandwich spread movement took so long to form.

Astrocat
Marcos Sorensen is the kind of illustrator whose stuff you know you've seen somewhere before but can't figure out where. His work has been featured in print advertisements, TV commericials, album covers, articles and so much more. The site has examples of his work and postcards you can send to a pal. Don't forget to click on Isabel Samaras' section to see her groovy coloring books.


Eeeeew. This site has images showing you the proper way to dissect a poor, little worm the right way. We just hope the worm was already dead before this webmaster took a scalpel to it. Ouch.

Pamorama
Here's another talented illustrator that we couldn't get enough of! Pamela Hobbs has lots of examples of her cartoon-like characters and even has a concentration game you can play over and over again. Sign her guestbook and get a free gift!

The Big List of Movie Mistakes
Making a movie isn't easy, you know. Sometimes actors goof up, or the director forgets about a tiny mistake. On this site, you'll find an archived list of goof-ups from movies we all enjoy. For example, did you know that in the movie Titanic, in the scene where the mother is reading her children a fairy tale as the ship goes down and the audience is led to believe that they will die soon, a few shots later we see the same mother and children hopping into a lifeboat from the top deck? Also, in Twister, during the big falling debris scene, Bill Paxton and Helen Hunt are in the red truck that hits a tractor. The impact damages the windshield, which is clearly broken. But a second later, the windshield is perfect and untouched.

Beck Underwood
What doesn't Beck Underwood do? This talented artist not only can make a stellar Super 8 film, but he can whip up a rattlesnake made from bottlecaps in a jiffy. See his art, photography, film stills and even a few custom-made birth announcements on this spectacular site.

Centre for the Easily Amused
When you get tired of looking through all the links we give you on Phreaky, take a gander at all the fun places linked from this site. Here are links for pages that do stuff, as well as sites that are just plain bizarre. Be prepared to spend hours here clicking like a maniac.

B-Eye
Ever wanted to see through the eyes of a honey bee? Now you can, with B-Eye. This software was developed by a neuroscientist who studies bee sight. The program warps or projects images as though you were the bee seeing them. The gallery of preprocessed images is the best area to watch the software do its thing.

Schwa
If aliens invade will you be prepared? You better be, and Schwa will help - for a price of course.