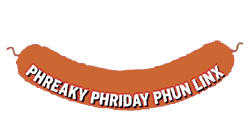 October 11, 1996


Fabio Loves You
Some people hit the genetic jackpot when they're born and bodice-ripper cover model Fabio could be one of those guys. Blond, buff and barely able to speak English, Fabio is still looking for his "special lady" and you could be her. Hear in Fabio's own words how he really feels about such topics as music, touching, listening and remembering. After all, he says, "his caress is your command."

Dead Man Talkin' by Dean
Ever wonder what it's like to be on Death Row? Here's a prison inmate at San Quentin who has something to say before he dies. Actually, Dean has plenty to say about his treatment, myths about the Justice system and detailed descriptions of each building in San Quentin. His columns are engaging and make you wonder what Dean did to be put on Death Row in the first place.

Pavement Terror
To keep himself from being bored as a delivery truck driver, Howard Stone decided to conduct a photography experiment. He rigged a hidden camera to the back of his van and every time the vehicle backfired (which was often), he'd snap a photo. Because he was driving, he used the camera with a long cable cord. Howard never knew what the photos would reveal until he developed them.

Anagram Insanity
Nothing's more fun than playing with Main Sanitary Nag, otherwise known as Anagram Insanity. Type in a name of your boss and use the anagram as his secret code name. A great waste of time for anyone wanting to see the complexities of the English language.

Urban Decay
Does the color pink make you sick? If you're tired of happy cosmetic colors, explore the other hue possibilities with Urban Decay. The make-up company sells lipstick, eyeshadow and nail polish in depressing colors such as roach, plague, asphyxia, acid rain and others. Think of it as Revlon for Morticia Addams.

Middle Eastern Names
Hate your name? Before you do something foolish like choosing a symbol for a name, check this Middle Eastern Name page out. You could go from something dorky like Eugene to something savvy like Siraaj.

Is Fashion Silly?
Find out once and for all if fashion is silly. Read an abstract of the lecture "The Culture of Surf wear" by Laurene Vaughan or take a close up look at the life, the work and new collections of Giorgio Armani.