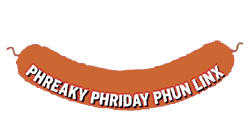 May 22, 1998





Money Origami
Money can be a beautiful thing, especially when you fold it into a butterfly. This special origami site shows you how to turn crisp dollar bills into bow ties, eye glasses, fans and spiders.


It's alright to wig out once in a while if you read this zine. Women In General magazine has lots of great articles about sports, art, music and culture. In the latest issue you'll find articles about getting the right snowboard gear, as well as album reviews of the hippest girl bands around.

The World of TV Toys
Were you the kind of kid that slept with a Tony the Tiger stuffed animal and liked to play with your Charlie's Angels board game? Then you will probably appreciate the World of TV Toys site. Here you can buy fun collectibles from such classic shows as the Addams Family, The Dukes of Hazzard and Flipper. One of the coolest items for sale is the Fonzie doll from Happy Days.

How to Create Fake Photos of Ghosts
Do you want to be famous for capturing mug shots of spirits, but don't feel like living in a haunted house to do it? Now, with help from this handy guide, you can learn how to take fake ghost photos like a real scam artist. Apparently, the trick is in the flashbulb.

Odd Rod Stickers
These are the kinds of stickers your older brother probably collected in the early '70s. The underground comic book artist Ed "Big Daddy" Roth inspired, if not created, these designs reminiscent of the Rat Fink series. Imagine huge monster characters ripping up the race tracks in crazy-looking hot rods.

The Really Lost Hanna-Barbera
If you liked the Flinstones cartoon, then you probably dug most of the Hanna-Barbera cartoon series. But did you know that there are some obscure cartoons that have slipped past the TV rerun stage? For example, while Walt Disney cashed in on his version of Alice in Wonderland, Hanna-Barbera did a cooler version of the story with hepcats such as Sammy Davis Jr. as the Cheshire Cat and Zsa Zsa Gabor as the Queen of Hearts? The site comes complete with sound files so you can hear Sammy purr like a kitten.