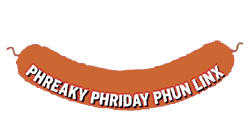 June 5, 1998





Marci's Retro Style
Do you wish you had a fabulous hairstyle like Marilyn Monroe or Rita Hayworth? In Marci's Retro Style site, you'll find instructions on how to curl and style your hair like the big movie stars from the 1920s-60s. This site is a must for anyone sick of their mainstream mane.

The Troy McClure Pretty-Much-Everything Site


You might remember him from such movies as "Gladys the Groovy Mule" and "Give My Remains to Broadway." Actually, you'll remember him as the cheesy actor who's in everything in the cartoon series The Simpsons. Because of Phil Hartman's tragic death, in a way Troy has died as well. Phil was his voice, after all. So take a second to visit this site, and remember two comic treasures at once.

Robert Sean Leonard Fan Site
He's played an aspiring poet, an AIDS victim, and now a slight love interest in "The Last Days of Disco." But you probably didn't realize that Robert Sean Leonard was nominated for a Tony award as Best Featured Actor in a Play in 1993 for his role in Candida, and that he does voice-overs for such audio books as The Secret History by Donna Tartt. This fan site lets you know all about this exceptionally talented actor with a trivia section, and a few video clips and sound files too!