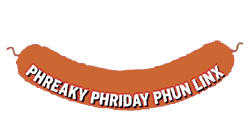 June 12, 1998





The Star Wars Collectors Archive
Star Wars is one of those movies that probably made more money off of its merchandise than the film itself. On the Star Wars Collectors Archive, see the mass of stuff Gus Lopez has collected in connection with the cult classic. He has action figures, replica models, props, autographs, store displays, food products, patents and so much more. He even has a collection of fakes and knock-off toys. Every Star Wars fan should visit this site at least once.


Comic book artists, writers, publishers and collectors all converge under one roof in San Diego every year for the Comic-Con International convention. Go to this site to see who's going to be on panel discussions and how you can catch a flight to attend as well.

Raving Toy Maniac
Searching for the Sally doll from the Nightmare Before Christmas? Have you been on the lookout for a Poison Ivy action figure? The Raving Toy Maniac is a zine just for serious toy collectors. Here you'll find tips and tricks on searching for your favorite toy, as well as articles on the latest toy merchandise from movies, TV shows and comic books. Check out the site's gossip section, interactive polls and contests. And whatever you do, please don't pass up the Custom Corner section, where collectors have done custom work and transformed ordinary action figures into one-of-a-kind toys.

Menudo
Did you know there have been 32 members since Menudo first started playing? This band may have popular roots in the 1980s, but it's still going strong with five prepubescent heartthrobs. Apparently, once one of the guys starts getting old enough to shave, he's replaced by another preteen boy. Ricky Martin is the only ex-member who seems to really have used the band as a stepping stone.

The Puffer Fish Web site
Be careful what you eat or it could be your last meal! On the Puffer Fish Web Site, gourmet chefs might learn a thing or two about this dangerous delicacy. Read the Natural Toxins section for information on why some people die after eating puffer fish. Or take a look at these odd little fish in the photo section.


Truth in Advertising
We all know that smoking is bad for you. Very bad. But did you know in the 1940-50s, advertisers often marketed cigarettes to women as a diet aid? Visit Truth in Advertising to look at a variety of vintage cigarette ads. You might be shocked to see Santa as one of the models smoking. The ad says, "Give cartons of pleasure for Christmas." Yikes!

Rockrgrl magazine
Girls can play guitar just as well as the boys can. Rockrgrl is a magazine chock full of interviews with women in rock such as Lisa Loeb, Mary Lou Lord, Lucinda Williams and many more. Check out the Grapevine section for the latest news and gossip on your favorite female rockers, or go directly to the links section for even more sites celebrating women in music.

Independent Counsel Kenneth Starr's Guide to Photogenic Living
Here's another section of Chickenhead.com, with a funny look at a not-so-harmless fella, Kenneth Starr. So what if Monica Lewinsky is in the limelight with her magazine glamour shots? Ken gives you tips on how to look good for the press, no matter how stressful the situation may be.