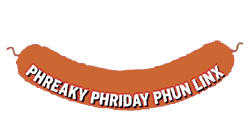 July 3, 1998





TV Offer.com
Do you catch yourself watching infomercials late at night for products like the Facial Flex and the Tanning Suit? Well, now you can catch these infomercials any time of the day on TV Offer.com. There are plenty of handy, and sometimes unusual, products to choose from in the areas of pets, diet, fitness, skin care and entertainment.

Hellfire
Sometimes it's a good thing to play with fire, especially when it's Hellfire. This zine has lots of terrific content including a virtual fight between the Teletubbies and the Spice Girls. You can register to win a devil beanie baby or see which celebrities are trying to hit on the Hellfire writers. There's even an amazing section called Goodwill Hunting where you can read about pop culture treasures that the editors found in various thrift stores and gumball toy machines. If you get offended by bad words or sassy opinions, you may want to stay clear of this site. But if you want to read a zine that beats up the other zines, take a deep breath and click away!


You might remember him as the guitar-pickin' host of the hick cult classic TV show Hee-Haw, but did you know that Roy Clark was the first National Ambassador for UNICEF as well? He was also a regular guest on The Beverly Hillbillies and went on to become the first country music artist to guest host The Tonight Show for Johnny Carson. Find out more about Roy and all he's done, on his official Web site.

If You Like Pina Coladas . . .
If you're bitter like me, you enjoy mocking the personal ads in the newspaper. Here's a zine that chooses the best, or actually the worst, personal ads for you to read in one spot. Brought to you from Al Hoff, the same genius who writes the zine Thrift Score, If You Like Pina Coladas . . . has samples of bizarre ads and information on how to buy back issues of the print version.


Former Child Star
What the heck happened to Tina Yothers from the TV show Family Ties? Or what ever became of cousin Jeri from The Facts of Life? Now you can get the dirt on all the child, teen and obscure actors from your favorite TV shows. In this zine, you can read sightings of the stars, find out their current jobs and discover which actors are currently serving time in the big house. You might be surprised who is returning to TV or does the voices for popular cartoons.

Rummaging through Northern California
If you live in Northern California, this is the site to visit before you run to your nearest thrift store for goodies. Find out where the best places are to find vintage clothes, furniture, toys, computers and more. There's even an area all about cheap food. In the Cheap Thrills section, you'll find a helpful events calendar and tips for having a fun, yet frugal, time.

Vampire Probability Test
Do you think you might be a vampire, but you're simply not sure? Take this test to get the truth once and for all. But be careful of your answers. You could end up just being a really weird Goth kid who hates eating garlic.