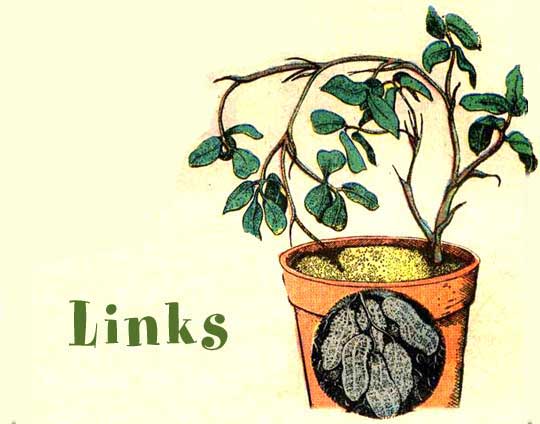 ---

Does your green thumb have a band-aid on it? Do you get the feeling your houseplants are afraid of you? Perhaps reading tips and articles on You Grow Girl will help. Not only is the site jam-packed full of helpful pointers, but you can also read plant journals written by advanced and beginner gardeners. (Gayla's plant journal is a great read - and addictive - because you feel like you're reading a novel more than a listing of plants she tills.) The site also has articles on topics such as which plants to well in dorms, and how to successfully grow plants from seed packets. The forums section is great for chatting with other plant lovers to get tips on indoor and outdoor gardening. There's even a review section covering books, zines, software and music regarding plants and gardens. One of the funniest parts of the site is an article called "Can 'Cool It Now' Save This Plant?" Who knew songs by New Edition had such an effect on plants?!
---
Gardening as an Anarchist Plot
When I want cheap, innovative ideas regarding plants, pest control and composting, I come to this site. Learn how to grow butterflies with a caterpiller garden. Or find out why growing a box of wheatgrass is good for your teeth. Plus this site shows you specs on growing a solar power generator, a nonviolent, wind-powered gopher repeller and a sunflower house!
---
Garden Gate Magazine: Projects
I'm a sucker for arts and crafts, and I'm an even bigger sucker for weekend garden projects! Garden Gate Magazine has some truly fun projects that are easy enough for any beginning gardener to follow. My favorites include garden pedestals made from wine bottles and car springs, pie tin stepping stones, indoor window boxes, salt shaker water fountain and a scarecrow planter (the plant looks like hair!).
---
The Old Farmer's Almanac
You really can't call yourself a gardener unless you check in once and awhile with the Old Farmer's Almanac. Farmers have used this book for centuries, but you don't have to raise a crop of corn for it to be useful. On this site, you can read daily weather forecasts for the year, check frost charts, refer to the outdoor planting table and read tips about gardening. The site also features a plant chat room and an organized seed swap.
---
The Culinary Herb FAQ
Growing herbs? They need plenty of drainage, water and sun. But what if you are growing basil indoors? Which herb is the easiest to grow? When should I harvest chives? If you find yourself asking questions like these, you'll be glad to know that the answers can be found on this FAQ. Bookmark it and refer to the site for information on growing, harvesting, drying, freezing and cooking herbs.
---
Growing Pains
Get super-simple tips on how to grow Devil's Ivy from cuttings, from the gals at Smile and Act Nice. Not only will you learn how to propogate from cuttings, you can also get a few pointers on how to grow a pineapple plant.
---
The Succulent Plant Page
I'm believe that some plants did not originate from this planet, but were instead brought to us as homewarming gifts by aliens. Think I'm nuts? Well take a look at a lithops, or a split rock, or even a donkey's tail plant and you'll see what I mean. Cacti and succulents are some of the most bizarre-looking plants you'll come across. This site gives you the lowdown on how to grow, propagate and locate various succulents and cacti.
---
What Tree Is It?
The next time you're in a park, play a quick game of What Tree Is It? This site proves photos and descriptions of every kind of tree you can imagine including pine, cedar, hemlock and chestnut trees. Learn how to identify a tree just by looking at a single leaf or fruit. You might end up even impressing the squirrels with your newfound skills.
---