Psych Textbooks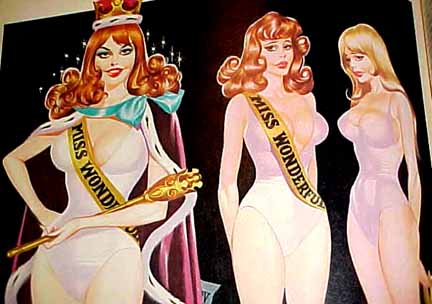 I

f I had these text books in high school, I can guarantee I would have done my homework without a single complaint. I managed to be the winning bidder on 20 out of 24 of these old psychology text books called Understanding Human Behavior. The books not only have interesting content on such topics as phobias, sexual fetishes and unusual insecurities, but the illustrations are brilliant all by themselves.

Scott McMillan emailed me to say this about the psych book illustration featured here:

The book is illustrated by Ron Embleton, 
who was the artist for the 
"Oh Wicked Wanda" and "Sweet Chastity" 
comic strips that used to run in Penthouse back in the '70s and 
'80s. I think he also did some of the "Little Annie Fannie" strips 
for Playboy, but don't know when. He also illustrated scifi, 
mythology, military, and history books. Sadly, he died in 1988. 

As you can see from the picture above, many of the images used in the books are comic-book in nature, but I have come across obscure paintings and drawings in the various volumes, as well. This is going to come in handy when I need ideas for my own art and Web design!
If you ever find books like these for sale on eBay - bid high. They're worth it!
back