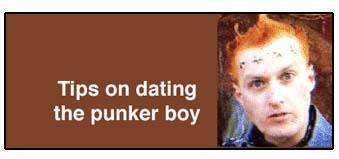 Punker boys are a bit . . . shall we say, angsty? So you can imagine how difficult it is to date this kind of fella. Stereotypically, punkers tend to fight a lot, mosh at concerts and pierce plenty of body parts. They also tend to live in the past, since the real punk movement sorta died out in the '80s. Here's a few pointers on how to keep your unstable Sid Vicious in his semi-happy place.
Don't expect your oi-boy to dress up for your dates. His idea of non-casual wear might just be a shiny new pair of Doc Marten boots.

Be careful of the Vyvyan ala Young Ones type. The kind of punker boy who finds entertainment value in beating up his roomies probably won't be too compassionate towards your needs.

Most punker boys like to be pierced in various places. This can be cool and sometimes grotesque at the same time. Don't get pierced just to keep up with him. Same goes for tattoos.

Watching him beat up frat boys in a mosh pit at an all-ages show does NOT constitute as a romantic date.

If he spends more time fixing his mohawk than a girl would on her hair style, he's probably a bit too obsessed for your liking. However, if you know the secret of keeping a mohawk from getting bent at a Fugazi show, then he'll probably marry you.

Know the difference between a skinhead, punker, straight-edge and other various punker types BEFORE you date them. This helps when you try to figure out if you're dating a fashion skinhead or a fascist.

Just because he's a punker doesn't mean you have to be a punker girl, too. Be yourself.

Don't ever say that Rancid or Green Day are punk. You'll regret it.

Punkers like to destroy things as a rule. Don't let him near your minature glass animal collection if you can help it.
All contents copyright © 1998-2006 by Bonnie Burton.
DISCLAIMER: By the way, these tips aren't meant to upset the actual punkers, stoners, musicians, ravers, goths and other types who visit Grrl.com. Sure not all musicians care more about their guitars than their girlfriends, and not all stoners eat tons of Ho-Hos, and not all goths wear black eyeliner, and not all ravers take E. But that's not the point. THIS IS IN JEST AND GOOD FUN. Learn to laugh at yourself a little. After all, not only have I dated all these stereotypes, but at different points of my life I was each of these stereotyoes myself -- except for the Redneck, that is.
back