The Author/Critic/Designer
---

Roger is constantly asked to design coffee table books, write forwards, or review something...anything!
But when he's not busy helping other folks with their projects, he publishes his own great works. If you're passionate about Web design and want to do it right the first time out, then read Roger's book Web Sites That Work. This is the kind of advice that companies such as @Home Network and MSNBC pay big bucks for!
The book is well-designed itself and almost comes off as a photo essay in parts with plenty of pictures of our hero, Roger Black, studying the Web and transforming pages into online art forms.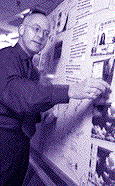 In this book, you'll learn valuable tips about what to do and NOT to do with your Web site. Roger also speaks extensively on the principles of online navigation, personalization, transaction, teamwork, and the future of the Net.
Aside from the stellar pointers, the book has plenty of candid Roger action shots to make any fan jump for joy. So hunt down Web Sites That Work in your local bookstore, or order it directly from Amazon.
Other Books:

Roger Black's Desktop Design Power by Roger Black

Don't Make Me Think! by Steve Krug
Forward written by Roger Black

Entertaining (1982) by Martha Stewart
Designed by Roger Black

Entertaining (1998) by Martha Stewart
Designed by Roger Black
---
Return to Babble-On