Tiki mugs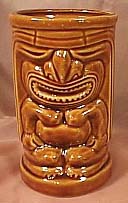 W

hen you want to add a touch of island paradise to your cocktail party, nothing says festive like a good batch of tiki mugs and glasses. I find that eBay is an excellent place to find just about any kind of tiki glass there is. Whether you like the angry tiki god glass or a happy hula dancer vase, they're pretty easy to find. I've gotten glazed-brown tiki glasses on eBay anywhere from $5 to $8 a piece.

Beware of the common variety of Easter Island face mugs overpriced on eBay. You can get these same exact glasses at Urban Outfitters for a lot less. Also, try browsing through your local Goodwills and thrift stores. Sometimes you'll find a nice tiki mug for a mere 50 cents, if you know where to look.

Also, eBay has some rather hip tiki salt and pepper shakers on sale just about every week. You have to admit having two fierce tiki gods looking you in the eyes every morning as you season your scrambled eggs is pretty cool.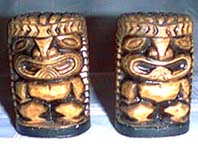 back