GRRL #2 - Evil Kids and Halloween issue
---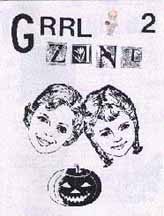 I had so much fun publishing the first issue of GRRL, that I went ahead and did a second one! This time GRRL pays tribute to Evil Little Kids and their favorite holiday, Halloween. Lottsa tricks and treats to be had for everyone. This issue is a lot thicker than GRRL #1 and comes with free plastic trinkets and small British flags too.

ISSUE #2

With 2 grrls and a jack-0-latern cover includes:

Troll Terror


Hefty Boy


Net Fear


Carve


Hasbro Sues


Dolls cause distress


Victim?


Exorcism


Bored Yet?


Baby Born


Little Kid's Point of View


Symbols


Hangman


Crack babies


Yum


Sufferin' til Suffrage


Bedwetting


Harvard drops offer


Little feminist


Violence


Boo!

If you'd like to buy this issue of Grrl please email me for details.
---


Back to zine index