GRRL #1 - Premiere issue
---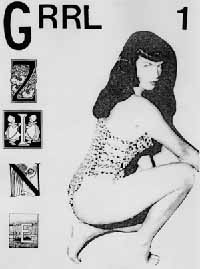 Abusing the XEROX machine is a good skill to have. Even though I love to publish online and save in printing costs, I also want GRRL to be available to kids who *gasp* don't have Web access. Besides that, I really like the old-fashioned way of cutting and pasting BEFORE the birth of Microsoft Word and Quark.

ISSUE #1

With Bettie Page cover includes:

Talk With a Smile


Break-Up Tips


20 Ways to Get Over Him


Unsolved Prank


Scientists Shoot Down UFOs


Hackers vs. Justice Department Home Page


Perfect Sole


SHE Book Review


I Love J.T.T.


Pavers

Some content in the printed version will have articles from this online zine, but most of it will contain original comics, rants and guest articles on other topics. This way everyone gets something different!
If you'd like to buy this issue of Grrl please email me for details.
---


Back to zine index