Anyone who's gotten a scraped knee from trying to skateboard over a garbage can knows the brand name Band-Aid. In fact, some people get downright nostalgic when they think of all the styles of Band-Aids that have been attached to their skin over the years. So much so, they collect the decorative tins the bandages are stored in.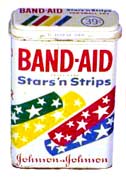 One collector of Band-Aid tins, Kevin Savetz from Blue Lake, Calif., didn't select his prized items from snooping around flea markets and garage sales, but inherited them from the old house he bought. The garage had not been completely cleaned out since the original owners lived there, and among the miscellaneous odds and ends were several Band-Aid tins filled with nuts and screws.
Savetz was so impressed by the collection that he decided to scan the tins and put them in his Web site, 75 Years of Band-Aid.
"We were pleasantly surprised to find the tins," Savetz says. "Everyone who visited our house seemed to enjoy looking at them, so it just made sense to put pictures of them online."
Even though there are 15 tins in Savetz's collection, he doesn't consider himself an avid Band-Aid tin collector.
"I'm really not interested in collecting them. I acquired a collection, but I'm not trying to build the collection," Savetz explains. "These tins are interesting on their own, certainly, but the ones that came with my house have a history here, they're part of the landscape now."