Bettie Page Update
from a Playboy employee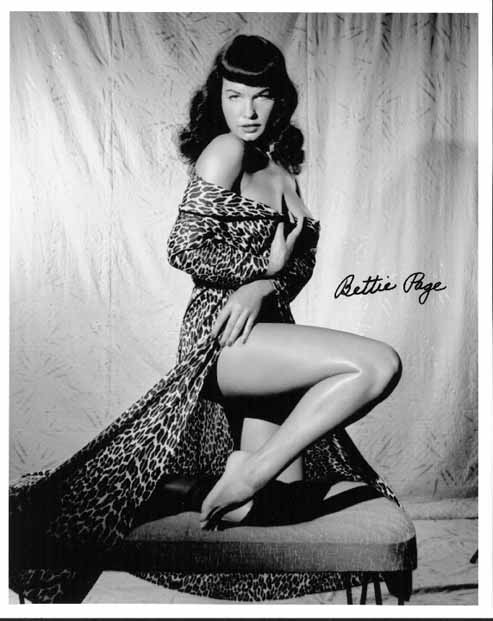 ---

from = jbuhrmester@playboy.com
mesg = Hey! Great site! 
I am a 23 year old Page fan and work here at Playboy. 
Since I have access to some information, 
I thought I'd share it with you. Rumor is that 
Mrs. Page disappeared a long time ago. 
I talked to Gretchen, the woman here in charge of 
keeping track of all of the Playmates 
and she gave me this update:
---
It still surprises Tennessee-born Bettie to hear that she's considered by many the greatest pin-up of all time. Her Playboy pose hinted at mischievous but innocent sexuality; a series of bondage shots taken by Irving Klaw veered into the perverse.
In his book "VaVaVoom! Bombshells, Pin-ups, Sexpots and Glamour Girls," Steve Sullivan describes "the fascinating duality of Bettie's photographs, which run the gamut from sunny innocence to sinister darkness....Readers could project their own deepest fantasies onto her image to a greater extent than any other model."
Senator Estes Kefauver tried to link Bettie with pornography and juvenile delinquency; in real life, she was a Bible college student. Bettie (and Betty) fan magazines--for years, no one knew how she spelled her name--proliferated even after she dropped out of sight in 1957, only two years after her Playmate bow. Nearly 40 years later, she was rediscovered, living a semireclusive life in California.
Among those who gained her confidence were Karen Essex and James L. Swanson, authors of the 1996 book "Bettie Page: The Life of a Pin-Up," and Dave Stevens, creator of the comic-book hero The Rocketeer. Dave had patterned the Rocketeer's girlfriend after Bettie, and he has now become one of her closest friends.
"Dave and I are good buddies," Bettie-then 73--told Gretchen Edgren, author of "The Playmate Book," in a rare 1996 telephone interview. "He chauffeurs me around to the doctor, to dinner, the movies, concerts and all. I like my good old-time melodies, and the original rock music from the Fifties. I don't care much for this hard rock or sheet metal or whatever it is," she said, chuckling.
Like many centerfolds of her era, Bettie didn't know her picture was going to appear in Playboy.
"A friend called me up and told me about it," she said. "And I've never met any of the other Playmates, except for Mrs. Hefner. I met her when Dave took me up to the Playboy Mansion. I liked her. She was very pretty, and her two boys are nice, polite little boys."
Bettie was also impressed with the Mansion. "In order to get in, you have to talk into a big rock. I never saw anything like that before. I was surprised to see Mr. Hefner coming to meet us in his purple silk pajamas and smoking jacket, but I understand he wears them around no matter now many guests he has."
Of her biography by Essex and Swanson, Bettie noted: "There were a lot of pictures in there that I had never seen before." She expressed surprise over "a little old strip set of me in there. Where that came from I don't know. I never posed for strip sets. It must have been the night they got me soused at a camera-club party in Manhattan and I don't remember what I did. It was the only time I ever got drunk in my life."
Bettie did like her Playboy centerfold. "Everybody did. Mr. Hefner even had large prints of it made up recently, and he and I signed them. I think he was charging too much for them, though--$500 apiece. Who's going to pay $500 for one old picture?"
These days, Bettie is reluctant to appear in public. She's gained some weight, she says. "I never had that problem when I was younger, but then I walked and went swimming a lot--and danced, especially. I used to be a fiend over dancing."

If you are looking for some awesome Page stuff 
check out Playboy.com. 
We've got autographed photos, posters, 
and books for sale. The prices aren't really as high 
as Betty says.

---
Go back