Extra! Extra! --
Bettie News, Events and Gossip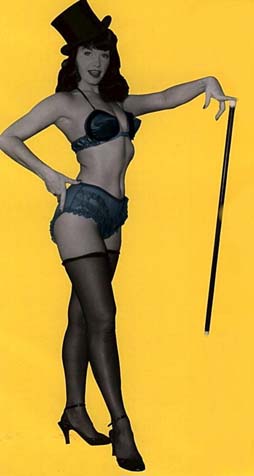 ---
R.I.P. Queen of Curves: Bettie Page Dies Dec. 11, 2008
Press Release: Bettie Page Obituary
Los Angeles, December 11, 2008 - Bettie Page, sweet-smiling legendary 1950s pin-up queen with the killer curves and coal-black bangs, died today of pneumonia at a Los Angeles area hospital. She was 85 years old. She suffered a heart attack one week ago and never regained consciousness. Her popularity as an underground, guilty pleasures phenomenon has continued to soar despite the fact that the reclusive Page disappeared almost a half century ago, leading many to believe that one of the most photographed individuals of the 20th century was already dead.
As the model who many have argued raised cheesecake to an art, Page combined exuberant, wide-eyed innocence with confident, sometimes aggressive sexuality. VANITY FAIR praised the playfully seductive Page as "our Uber-pin-up." The NEW YORK TIMES has declared that today "her star shines more brightly than it did in her brief heyday from 1950 to 1957." PLAYBOY immortalized Page as one of its inaugural centerfolds and recently named her "the model of the century, yet she remains one of its best kept secrets." In a recent TVGuide.com poll, Bettie Page was voted the "ultimate sex goddess," outscoring others such as Marilyn Monroe.
Born on April 22, 1923 in Nashville, Tennessee, Bettie (spelled "Betty" on her birth certificate) Mae Page was the second child of six born to Walter Roy Page and Edna Mae Pirtle. The family was poor, moved often, and as a child, Page frequently found it necessary to take charge of her siblings. On several occasions they were dispatched to an orphanage. Life was hard. They were raised in the Church. Page owed her extraordinary looks and high intelligence to her parents, but it was a mixed blessing. Her mother did not want her. Her father molested her.
Page and her two sisters grew up movie fans who enjoyed acting out memorable scenes from whatever "picture show" they had just been to see. "I've been a movie hound my whole life," Page said. "That's how I started learning to pose, when my little sisters asked me to mimic photos of movie stars we'd seen in the magazines and newspapers." They would experiment with different hairdos and makeup styles. At an early age Page learned to sew at the local community center; it was a skill with a practical application years later when she designed and made her own costumes, lingerie and bikinis to wear while modeling. She was the salutatorian of her high school graduating class. She was also program director of the dramatics club, secretary-treasurer of the student council, co-editor of the school's newspaper and yearbook, and voted "Most Likely to Succeed" by her classmates.
Her own mother's jealousy cost Page a scholarship to Vanderbilt University. Instead she earned a 1944 Bachelor of Arts degree in education from Peabody College in Tennessee. It was an uncommon achievement for a woman at that time. She tried teaching school, but her heart-breaking good looks made it impossible for the kids in class to focus on anything else but their pretty teacher. "I couldn't control my students," she would say with an irresistible wink, "especially the boys!" Two decades later Page returned to Peabody to work on her master's degree.
There wasn't anyone anywhere quite like Bettie Page. She thought for herself. She chartered her own course. She was independent. Page was completely self made, bore no prejudice of any kind, and recognized no barrier to personal fulfillment. Always a free spirit, she moved from Tennessee to San Francisco, took her first of several secretarial jobs, but dreamed of movie stardom (her favorites were Bette Davis and Gregory Peck). Plus she hoped for a chance at modeling. In her first work before still cameras, Bettie Page was more than fully clothed; she wore fur coats.
Everywhere she went, whatever she did, people were distracted and dumbstruck by her looks -- the beguiling smile, the raven hair, the flawless figure. Finally in 1945 one of these people arranged for the acting hopeful to visit Hollywood, where, unfortunately, 20th Century-Fox mishandled her screen test. "They did my hair and makeup so that I looked like a caricature of Joan Crawford," Page recalled in the Southern drawl she never lost, and which Hollywood frowned on. "It was awful. They ran the test for me; I hardly even recognized myself." She fled the lot when a producer promised a lucrative movie career in exchange for sexual favors. "I didn't like his looks," Page said. "I wouldn't have gone to bed with him anyway. He was a creeeeeeep. He drove off in his big car and scolded me, 'You'll be sorry.' I wasn't."
Nor was she interested in the attentions of flamboyant filmmaker, aviator and inventor Howard Hughes, who pursued Page as well. Hughes phoned and had his staff phone her many times, summoning Page regularly on the pretext of wanting to photograph the delicious looking model. She declined every entreaty. "I never returned any of his calls," said the celebrated pin-up, who surprisingly few could pin down. "I guess people will say I made a mistake. But sex is part of love, and you shouldn't go around doing it unless you are in love. I certainly didn't."
More than once in recent years she did concede that failing to answer a telegram from studio boss Jack Warner about doing a second screen-test at Warner Bros. was the one mistake she most regretted in her life. But her first husband, Billy Neal, was returning home from war in the South Pacific, and Page was focused on trying to save a collapsing marriage.
Living in New York during 1947 after divorcing Neal, one day at the beach Page chanced to meet a police officer named Jerry Tibbs. He had a side interest in photography. It was Tibbs who recommended she should adopt the trademark black bangs. He also aided in compiling her first pin-up portfolio. Of course Page was from the South; Tibbs happened to be black. Page happened to be color blind.
With her tantalizing face and figure, she innocently and perhaps inevitably drifted into cheesecake modeling as a lark, where Page was prolific. Almost immediately she was the ubiquitous face and figure adorning such publications as WINK, EYEFUL, SIR!, HE, SHE, JEST, BARE, STARE, GAZE, VUE, TITTER, SUNBATHING, BEAUTY PARADE, CHICKS AND CHUCKLES and scores more. Her saucy pictures ripped from these magazines decorated offices, lockers, garages and all manner of rooms around the world as if they constituted a new Bettie Page brand of wallpaper. Her image was everywhere, and attracted international attention and notoriety.
In posing for such photos (some by acclaimed fashion photographer Bunny Yeager), many who were witnesses recall that Page seemed to command these sessions the way a movie director would. Without intending to (and without realizing it either), because of her ingenuity and dominant personality, Page was effectively the creative force controlling much of her own work.
"I was generally happy posing, and that seemed to shine through in the pictures," Page explained. "Nobody knew this, but I used to imagine the camera was my boyfriend, and I was making love to him. I had fun teasing the guy with the camera until he was in sync with whatever mood I was in."
At a time when Marilyn Monroe was studying at the Actors Studio in Manhattan, Page was doing the same at the renowned Herbert Berghof Studios only blocks away. "I wasn't trying to be an actress at that time, but I wanted to see if I could really act or not."
The answer was pretty much, no. Actor Robert Culp taught some of Page's classes, and did a dramatic one-act play with her. The title was DARK LADY OF THE SONNETS. "She was in way over her head," Culp remembered. "She was nice, but she was not an actress, and had she continued, her thick Southern accent would have been a problem for her."
Berghof and his wife, Uta Hagen (both famous exponents of the Stanislavsky method of acting) were impressed by one scene, however, and asked Page what she was drawing upon from her own experience to create the sense of remorse and tragic reality which she was projecting so effectively on stage. Page told them, "I was thinking of all the wicked things I had done, and how God was going to punish me for all my sins."
On television, the biggest thing Page did was a performance in a skit with the star of THE JACKIE GLEASON SHOW. She disliked him. "Oh, Jackie Gleason was a tyrant," Page declared. "That man was inconsiderate of everyone around him, including Art Carney, Joyce Meadows, the director, I do mean everyone. I never saw such screaming and yelling. Some people think I'm crazy! You should have seen this cad in action -- although he was sweet to me!"
The pin-up extraordinaire never exploited her incredible figure to work as a dancer or stripper in clubs, but she did appear in three burlesque films that suggested as much: STRIP-O-RAMA (1953), VARIETEASE (1954), and TEASERAMA (1955). "I was terrible," Page laughed in recalling these low budget grind-house efforts. She also performed for the camera in countless 8 and 16mm so-called "film loops" exhibited in peep shows and sold through the mail. Running only minutes long, many of these were staged and issued by the brother-and-sister team of Irving and Paula Klaw of Movie Star News in New York.
It was for the Klaws that Page gained infamy posing in bondage. "It was all pretend," Page explained. "According to my arrangement with the Klaws, you had to do an hour of bondage poses in order to get paid for the other modeling work." Seeing such photos in recent years (now they seem almost tame), she would laugh and comment, "Oh, I look like a meanie here….But honestly, who could take any of this seriously? I never understood how anyone believed those poses were sexy. To be tied up? I don't get it."
Enough did, however, so that Bettie Page quickly became the most photographed woman in the world. There could be no doubt, she was a sensation. THE PAGE CRAZE WAS ON.
"You couldn't walk by a newsstand without seeing a picture of this gal on one magazine or another," said Hillard Elkins, who for a time represented the aspiring actress on behalf of the William Morris Agency. Without imagining the consequences on any conscious level, Page eventually found that her provocative images violated all manner of sexual taboos during that more Puritanical time, finally invoking a United States Senate Committee investigation into pornography. She was subpoenaed to appear in a Capitol Hill courtroom presided over by Senator (and presidential hopeful) Estes Kefauver, yet was never called upon to actually testify.
Then by 1958 this young and beautiful pin-ultimate pin-up queen was gone -- suddenly vanished from view in the prime of her life. Just like Greta Garbo, like James Dean, like Jean Harlow. Gone. Except that the departure of Bettie Page was a mystery. Where and why did she go? Had she died? Was she hiding? Was she incapacitated? No one knew. Page's disappearance only served to power her notoriety. Fantastic rumors abounded. For decades, fans searched. Even the hard-hitting investigative television program 60 MINUTES tried doing a story.
It took until the mid-1990s before the truth was finally revealed. While battling some fierce inner demons, Page had secretly fled New York for Florida. In 1958 she underwent a religious epiphany. She totally retreated from the public eye, tried marriage again, and gave her life to Jesus Christ as a born-again Christian, working for Billy Graham's ministry, among others. Incredibly, as yet another riddle in her complicated stranger-than-fiction life, during this time Page remained completely oblivious of her own profound impact upon America's fast-changing sexuality and pop culture, not to mention the thriving cottage industry that had arisen around her celebrated image -- the issuance of commercial products including Bettie Page action figures, calendars, comic books, lighters, incense, towels, DVDs, T-shirts, key chains, playing cards, lunch boxes, websites, and all manner of memorabilia. IT WAS BETTIEMANIA.
The failure of Page's third marriage in 1978 precipitated some mental instability, violent mood swings, and serious trouble with the law. The sordid details of these travails are no secret and have now been disclosed in books and the tabloid press. At last in 1992 she left San Bernardino's Patton State Hospital to emerge from this dark period during which she had been diagnosed as a paranoid schizophrenic.
Page was living quietly in seclusion in Los Angeles when she discovered her enormous niche market popularity. Playboy's Hugh Hefner introduced Page to a Midwest lawyer who is credited with establishing the merchandising and licensing business opportunities for many of the famous icons of the 20th Century. Roesler's company, CMG Worldwide, was representing several hundred famous personalities, most of whom were deceased, such as Marilyn Monroe, James Dean, Babe Ruth, Malcolm X and others. Roesler quickly turned the reclusive beauty into a "brand" recognized around the world. Clothing lines that featured the "Bettie Page" brand sprung up, as did a store called "Bettie Page" on the Las Vegas Strip. Page became increasingly popular not only here in the United States, but throughout the world. Her website BettiePage.com became one of the most heavily trafficked sites on the internet, getting almost 3/4 million hits each day.
"She was a remarkable woman," Roesler reflected, "truly someone that changed the social norms, not only here in this country, but also around the world. While Jackie Robinson was changing the racial attitudes, Bettie Page was changing our attitudes on sex. She became a James Dean type of rebel figure as she allowed people to be less inhibited and look at sex in a different way."
Roesler said her influence will be on the same level as a Marilyn Monroe. "Her undeniable influence will forever remain in fashion, films and merchandising," Roesler declared. "She was reclusive and private, so without intending to be, without quite understanding how, her modeling work made her a pivotal figure in the sexual revolution that began in the 1950s. I was always flattered by Bettie's continued trust, and happy to play a role in helping her overcome some financial and personal problems in her later years. To her adoring she will always be remembered as the Queen of Pin-up."
Roesler was at Page's bedside when she peacefully died on Thursday, failing to regain consciousness following her heart attack eight days earlier.
Wearing a Santa hat and nothing else as Miss January of 1955, Bettie Page, like Marilyn Monroe, had been one of PLAYBOY magazine's initial Playmate centerfolds during its first year of publication. Monroe fit the magazine's business model, offering readers the (apparently) wholesome girl next door. Despite her sunny smile, Page became instead a puzzling "bad girl next door" cult figure, now representing a sort of collective guilty pleasure for admirers, who are not just men.
Images of Bettie Page continue to inspire imitation by curious young girls who somehow – probably through the internet – discover this "Dark Angel" whose personality reflected the lethal combination of sweet apple pie, as well as dangerous forbidden fruit. Judging by the hundreds of millions of hits registered at her authorized website, the magnetic appeal of Bettie Page to young men, and women, appears to be timeless.
"Young women write me untold numbers of letters," Page explained in 2005. "They look up to me. They thank me for helping them see how they can be themselves, or how they can reinvent themselves, assert themselves, lose their inhibitions, and come out of their shells. Of course just posing for pictures I never intended to do any part of that, but I am gratified to see that what I did so long ago has meant something to so many."
Apparently what resonates with young women is how Page owned her own sexuality. Whether projecting innocence, or being completely wild and uninhibited, it seemed to be her choice, and either choice, wholesome or edgy, was fine with her, and she embraced them both. She was confident her audience did as well.
Hugh Hefner says the appearance of Bettie Page in PLAYBOY was a milestone, and that "she became, in time, an American icon, her winning smile and effervescent personality apparent in every pose. A kinky connection was added by Irving Klaw's spanking, fetish and bondage photos, which became part of the Bettie Page mystique; they were playful parodies that are now perceived as the early inspiration for Madonna's excursions into the realm of sexual perversion."
The fashion designers, Madonna, and others can copy the fetish behavior, the bangs and the bullets bras, but only the spontaneous and unpredictable Bettie Page herself was able to project the unique and volatile combination of the playful nice girl -- along with the perilous one. Wholesome innocence one moment, dangerous dominance the next. That quality defined the Bettie Page persona, as well the flesh and blood person few people were fortunate enough to know. Quietly, steadily, old black and white photos of Bettie Page have continued to stimulate tributes in the form of books, websites, fan clubs, documentary films, and countless licensed products.
Two examples of how Bettie Page has been re-introduced to new generations of eager young fans: First, Dave Stevens created a comic book hero called "The Rocketeer," with a love interest clearly inspired by Bettie Page; Disney adapted it as a big budget, same-named motion picture vehicle for Oscar-winning actress Jennifer Connelly. Stevens, recently deceased, became one of Page's most devoted friends, one of the few she could trust. It was Stevens who escorted Bettie Page to the Playboy Mansion for a private 35mm screening of THE ROCKETEER in 1994. She had never seen the film before. She loved it.
Second example: the noted erotic pin-up artist Olivia, who has been painting Bettie Page for a quarter century (in art books, for PLAYBOY, on limited edition posters, etc.), was the first to successfully integrate her fetish imagery for a high fashion licensee, Fiorucci Jeans. Olivia offered this assessment of the Bettie Page phenomenon on the occasion of her passing: "From Mona Lisa to Marilyn Monroe, pinup icons fascinate, because no one can explain the ethereal nature of their beauty. It comes down to creating magic. Bettie was the action hero of pin-up. Although the fantasy world of fetish/bondage existed in some form since the beginning of time, Bettie reigns as the iconic figurehead, for no star existed in this realm before her. Marilyn had her predecessors, Bettie did not. It was a privilege to know and love her."
Celebrities and supermodels who have attempted to leverage the "magic" and pose as the naughty and nice Bettie Page include Madonna, Shalom Harlow, Uma Thurman, Janice Dickinson, Dasha Astafieva, Jenna Jameson, Dita von Teese, Farrah Fawcett, Eva Herzigova, Demi Moore, Laetitia Costa, Christy Turlington, even Renee Zellweger, to name a few.
Pop culture critic and author Mikal Gilmore has characterized the appeal of Bettie Page in this way: "No matter how much you stare or dream or pray, you could never get enough of what it is that her face and body seem to promise."
Despite having worked with but a single competent photographer, despite having thousands of her photographs destroyed on purpose following the congressional hearings, and despite so many extant photos surviving only as inferior copies of the originals, the transcendent beauty and playful yet dangerous personality of Bettie Page trumps all else and continues to inspire documentary films, designers' fashions, artists' fetishes, and fans' fantasies.
For those who understood who Bettie Page was, no explanation for any of this is necessary. For those who did not know, probably no explanation was, or is, possible.
Late in life she shunned the public, and guarded her privacy. But that was always true of the way Page lived, even during her modeling days.
Near the end, she hoped people would remember her as she looked when she was young, and for being someone who, in her words, "changed people's perspectives concerning nudity in its natural form. Being nude was something I enjoyed, it felt so natural. There is nothing disgraceful concerning nudity unless one is being promiscuous about it. Don't forget the Bible says when God created Adam and Eve, they were stark naked. Who can argue with that?"
Bettie Page was married and divorced three times, bore no children, and of her five brothers and sisters, is survived by Jack Page of Nashville, Tennessee, and Joyce Page of Atlanta, Georgia.
When Bettie Page left the modeling scene, she sought privacy, read widely, enjoyed classic movies, mastered fields which interested her (including homeopathic medicine and nutrition), and lived out her life as a devoted Christian. Many times she told friends, "My long term goal is to live a healthy hundred years."
She made occasional visits to the Playboy Mansion to watch old movies and attend private parties with her friend Hugh Hefner and her agent, Roesler. She was humbled at all the attention she got five years ago, when she attended Playboy's 50th Anniversary party at the Playboy Mansion with Anna Nicole Smith. Both Smith and Page made a grand entrance and enjoyed the special attention they received. That evening they were photographed together in what was said to be the only time in the past 50 years that Page allowed her photograph to be taken.
Her story is an impossible incursion of near misses, bad luck, contradictions and lost opportunities. Page was strong-willed, and fiercely independent. She battled long and hard against both physical and mental illnesses. From the 1950s and beyond, when strangers would recognize her, she would deny her identity. "Bettie Page?" she would respond, "Who is that?" And yet to friends, she always told the truth, and would candidly (and sometimes endlessly!) discuss any aspect of her long life, including any conceivable question one might pose with respect to sexual activity. And under the spell of those sparkling blue-gray Bettie Page eyes (at any age), sometimes one was too distracted to even process what she was saying.
Funeral services will be Tuesday with a private service and burial at Westwood Cemetery a few feet away from her blonde sex icon counterpart, Marilyn Monroe.
For more on the life and legacy of Bettie Page, BettiePage.com.
---
Send Bettie a Get Well Card!
Jan. 2008
Bettie Page was recently treated in the hospital for some medical problems. And, as every Bettie Page fan knows; Bettie is 84 years old, has very little money and no family. If you would like to show you care, take the time to do a random act of kindness. Send her a "wishing you well" card.
Send to:
Bettie Page
c/o CMG Worldwide
9229 West Sunset Boulevard
Suite 820
West Hollywood, CA
90069 USA
---
Bettie Page in the Hospital!
Dec. 2007
Steve Brewster of Scoutmaster of the Bettie Scouts of America got a call from the hospital at 10:26am cst, 12/26/07. Bettie Page has taken a turn for the worse. She has fallen weaker and having trouble breathing and they believe she has pneumonia. She is 84.
Offer a prayer, if you are so-inclined, or at least think some warm thoughts... .
UPDATE:
Steve Brewster reports: Your prayers are working. I just got a call from the hospital 3:58pm cst 12/27/07. Bettie does indeed have pneumonia but her condition is stabilized. Her care giver said this is very good news! They are giving her oxygen and treating her with antibiotics and even though she also has a kidney infection he is optimistic on her recovery. I'll let you know as I hear more. Whatever you're doing, keep it up! And Thanks to so very many of you for your calls and emails.
---
Bettie Page Inspires Droid in
Star Wars: Revenge of the Sith
May 2005
George Lucas' directives described the droid as the automated equivalent of Bettie Page, and the droid design quickly earned the nickname "Bettybot." Though the scenes of Bail's offices were ultimately cut from the film, the droid was nonetheless designed and modeled as a CG character. Renamed the BD-3000 droid, it can be seen briefly during the Senate landing platform scenes and the Galaxies Opera House scene.
Read more about Bettybot here.
---
Bettie movie on HBO
April 02, 2004
After three false starts in the last eight years from other companies, a Bettie Page movie is finally happening, with filming beginning Monday in New York, according to Variety.
Killer Films, fully financed by HBO, is working on "The Ballad of Bettie Page," starring Gretchen Mol. The decision has not yet been made as to whether the film will be released theatrically or be seen first on HBO.
A biography, The Real Bettie Page, by Richard Foster, was published in 1997, and delves into her trial for attempted murder and her decade spent in a mental asylum. The upcoming movie could be extremely compelling and spark renewed interest in Bettie Page licensed products and memorabilia, such as those produced by Dark Horse Comics.
From Cinescape Online:
Actor Jared Harris has joined the cast of the HBO movie THE BALLAD OF BETTIE PAGE. He will play photographer John Willie, the man who brought Page to fame through his sexy photos of the dark-haired pin- up queen. Gretchen Mol (THE THIRTEENTH FLOOR) is playing Page. Harris will next be seen in RESIDENT EVIL APOCALYPSE this fall.
The HBO movie is being directed by Mary Harron (AMERICAN PSYCHO), from a script co-written by herself and her PSYCHO scribe Guinevere Turner.
---
Paging Bettie
Entertainment Weekly magazine profiles Bettie Page sites (including this one) in its #667, Aug. 16, 2002 issue. The cover features Spider-Man with the line "Don't Believe Your Eyes: 10 Movie Magic Secrets." You'll find the piece, written by Ben Spier, in the Digital section on page 74.
---
Liv Tyler as Bettie Page?
Recent news has Liv Tyler now playing the part of Bettie Page in a Warner Brothers movie about the pin-up's life. Read the story here.
---
The Ballad of Bettie Page movie
It's official! Guinevere Turner will be playing the part of Bettie Page in the movie "The Ballad of Bettie Page." Read more about the role on Guinevere's fan site. Two major movies about Bettie Page are in production. Yipee!
---
Bettie update from Playboy
Someone who works at Playboy was nice enough to send this article in about Bettie.
---
Bettie on E!
E! Television featured The Life of Bettie Page -- True Hollywood Stories -- on April 27, 1997. It's a 2-hour retrospect that includes her history, interviews with her biographer and her brother, Jack and others -- including Bettie herself! Be sure to look for the reruns!
---