Blythe Doll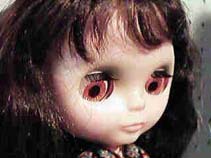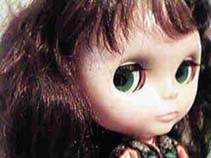 H

er eyes change color when you pull the string attached to her back! No joke! The eye colors change from blue to orange to green. I won this Blythe doll for $18 total. Apparently the doll was made by Kenner in 1972. It has a huge head and a tiny body. She's 11 1/4 inches tall.

She's super-spooky like my Little Miss No Name dolls, and I like the fact that not too many folks have come across dolls like this. What was up with all these bizarre dolls made in the late '60s and early '70s? Were people so weirded out from drugs that they felt compelled to design scary dolls, or was it all Walter Keane's fault because he painted so many popular big-eyed waif art pieces?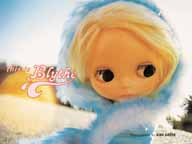 If you're really interested in the Blythe doll, take a look at the book This is Blythe by photgrapher Gina Garan. The book features very stylish photos of different Blythe dolls dressed in fashions from the '70s.
Also if you'd like to chat with other Blythe doll collectors and fans, feel free to join the Blythe Kenner Yahoo Club.
Hey is it just me, or do Mattel's new Diva Starz dolls resemble a certain creature named Blythe?
back