Confessions of an eBay Addict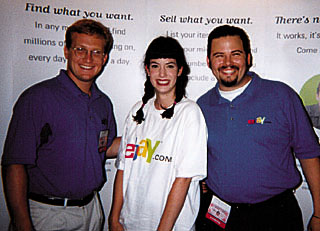 Me (wearing a white eBay shirt) and the eBay booth folks at Comic-Con.
I was the kind of kid that never really got the toys she wanted. It wasn't my parents' fault - we had bills to pay. So I never got a Fisher Price Mini-Movie Theater. I had to play with Lincoln Logs instead of Legos. My brother and I had to use our imaginations with our Tonka trucks instead of being able to enjoy ourselves with expensive motorized race tracks. And I'm a better person for it.
But now I've been reliving my childhood by buying pop-culture finds off of an online auction house called eBay. Here you can buy anything from Super Deluxe Spirographs to ultra-rare Fisher Price Pixelvision cameras. Sometimes you'll find a real bargain, while other times you'll find yourself caught up in a bidding war and end up paying $20 for a stupid two-ring Spice Girls folder.
Look here for detailed descriptions on what I actually won on eBay. I've bought some seriously demented things. So weird in fact that this site has been mentioned in the magazines: Yahoo Internet Life and The New Yorker, among others.
Also take a moment to read my column called Absurd Auctions. I've written about taxidermied squirrels, airsick bags, thrift store artists, tarot cards, Mr. Peanut and Band-Aid tins.
Be sure to sign up for the eBay Weirdness Mailing List -- at the top of the Weird eBay Finds section if you'd like to receive a regular list of weird stuff you can buy on eBay. I'm not joking about weird either - we're talking taxidermy reptiles and old medical tools here! I also make a point to put a lot of TV and movie memorabilia on the list - so be prepared for an onslaught of links to Planet of the Apes, Thunderbirds and Charlies Angels!
Please go to my eBay Weirdness Collector Group on Yahoo to chat about the things you find on eBay as well.
Back to Weird eBay Finds