D.I.Y. Apartment Art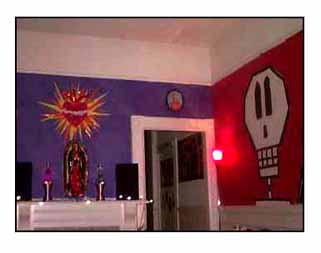 You don't have to be an art school graduate to put together your own in-house art installation. All it takes is some cheap craft materials and a great concept.
When I lived in one of many apartments in San Franisco, landlady made it quite clear to me when I moved in that I wouldn't be allowed to paint my walls. Since white walls drive me batty and I couldn't paint, I felt I was at a loss. Until I caught myself staring at the multipacks of construction paper in the school supplies isle of Walgreens. What if I turned my walls into a sort of construction paper mosiac?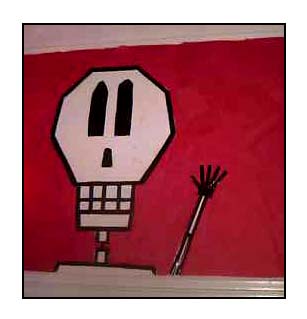 After about 15 packs of construction paper, 10 rolls of tape, 6 tubes of glitter glue and two rolls of black gift wrap paper, I created the art murals in my apartment.
The first mural I completed was a waving skeleton surrounded in red construction paper in the living room. I cut the construction paper in huge triangle and rectangle shapes and taped them up one by one on the walls. It added a nice extra texture, and the vivid color is amazing.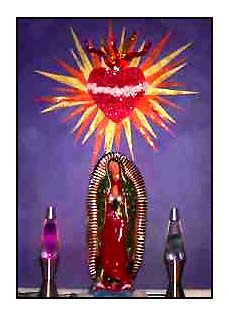 Above the fireplace I also made a glitter version of the Immaculate Heart of Mary above a plaster sculpture of Our Mother of Guadalupe. The statue itself stands between two lava lamps.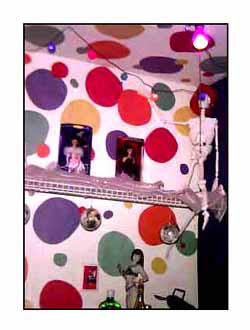 I transformed my tiny laundry room into a wetbar complete with the same spots you see if you've been drinking too much. The scatter dots on the walls, floor and ceiling were inspired by the game Twister and a commericial I once saw on Nickelodeon.
In the kitchen is a huge mural dedicated to the Trix cereal rabbit. I wanted something on my walls to cheer me up as I went out the apartment on my way to work every morning. It's BIG and its ears bend over onto the ceiling. I created the portrait out of construction paper and shiny black gift wrap paper.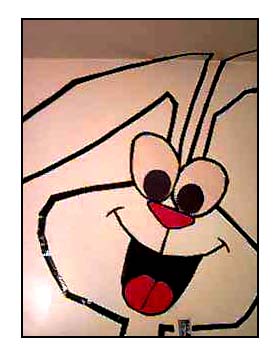 To get easy instructions on how to do your own construction paper art mural go here: DIY Cartoon Mural.
Click here for A Tour of My Current Bachelorette Pad.
---
Go back, quick!