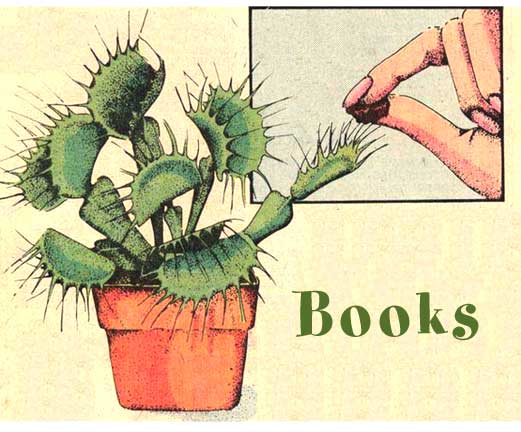 ---
Suggest a book or comment about the ones below!
---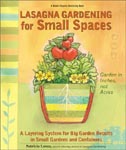 Lasagna Gardening for Small Spaces
I am forever grateful to Patricia Lanza for cutting my gardening time in half. By using her layering technique for all my container veggies, flowers, fruits and herbs... I spend less time worrying about my plants and more time enjoying them. Basically, her method is simple: first a layer of wet newspaper, a layer of peat moss, then organic potting soil, then compost, then peat moss, then soil, then compost and so on. Then you pull layers aside and place in your plants. Cover with compost and some mulch. And you're done! The plants get the nutrients they need so you don't have to mess with fertilizers. Plus the mix has excellent drainage yet keeps the soil moist. Lasagna Gardening for Small Spaces also has handy lists of easy-to-grow plants to grow in containers as well as endless amount of pointers. Be sure to check out her first book, Lasagna Gardening : A New Layering System for Bountiful Gardens if you'd like to grow a larger, more traditional garden.
---

You Bet Your Tomatoes!
If you want to read a funny book on how to grow beautiful tomatoes, then You Bet Your Tomatoes is right up your alley. Mike McGrath (NPR host of the gardening radio program, "You Bet Your Tomatoes") not only shows you quick ways to keep your tomato plants happy and thriving, but he tells some funny stories and bizarre factoids along the way. In fact, I wonder why this book isn't also sold in the humor section at the bookstore?
---

Easy-Care Guide to Houseplants
I picked up Jack Kramer's book Easy-Care Guide to Houseplants at an Ace Hardware store when I was first attempting to grow some other houseplants besides the unkillable Devil's Ivy. As far as your basic guide to plant care goes, this is the stuff. I'm constantly thumbing through it when I need to figure out which plants would thrive best in a dark bedroom or a bright kitchen. Plus the photos are simply beautiful. Some of the highlights of the book include decorating with plants, choosing houseplants, growing herbs inside, picking the right containers, raising and grooming, propagating and understanding plant problems. This handy book also gives you step-by-step instructions on how to build your own knockdown growing stand.
---

The Houseplant Encyclopedia
Of all the plant books I own, and that's a lot, this is the one I find myself refering to constantly. The Houseplant Encyclopedia is easy to read, and has a humorous tone to it at times. This book was the one that finally showed me the RIGHT way to propagate a Snake Plant. (HINT: The cuttings have to be stuck in a certain direction in the soil or nothing will happen.) You can find this book by Maggie Stuckey in just about any used book store, so look around for it and pick up a copy. You'll find yourself refering to it for humidity tips, feeding info and watering pointers. Plus she reveals whether talking to your plants really does help, or just annoys your roommates.
And if you container garden, do yourself a HUGE favor and get Stuckey's latest book: McGee & Stuckey's Bountiful Container: A Container Garden of Vegetables, Herbs, Fruits, and Edible Flowers. I'm barely 1/4 of the way into the book and I already know I'll be refering to it constantly for tips and advice on my container garden sitting innocently on the deck. Stuckey may just be the gardeners guardian angel.
---

Ortho's All About Houseplants
This is one of those great books that helps beginners feel as though this gardening thing isn't so difficult after all. Plenty of photos and easy-to-follow instructions for plant care make Ortho's All About Houseplants an essiential for anyone who wants to know the basic tips for growing houseplants. The "What Can Go Wrong" section extensively covers human errors, insects and diseases - which cause so many new healthy plants to go bad in a hurry. I highly recommend this guide for any gardener's book collection.
---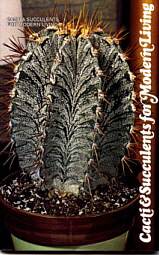 Cacti & Succulents for Modern Living
This beautiful, 80-page colorful book (I originally got off of eBay) is on the complete care of many popular cacti and succulents. The book has 137 color photos of many of the cacti and succulents commonly in household cultivation. Like many plant books, it covers buying tips, containers, propagation, pest and disease problems, and specific cultural requirements for individual genera and species. First published in 1976, it is a great addition to your plant book library.
More books about Cacti and Succulents:
---

The Old Farmer's Almanac
When it comes to outdoor planting, you're going to need a copy of The Old Farmer's Almanac. Where else are you going to find weather forecasts for the whole year, frost charts, outdoor planting guide and gardening tips? It's a cheap little publication that comes out every year, and you don't have to be a farmer to appreciate reading it.
---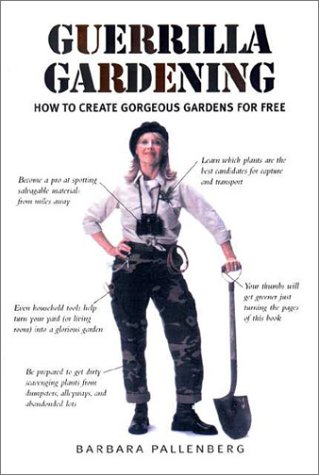 Guerrilla Gardening
I'll admit that when I first picked up this book at the bookstore I was miffed. I had been researching the concept of Guerrilla Gardening for an article I was writing for Organic Gardening magazine; only my definition of the movement was something quite different than this book. I always figured people who anonymously plant herbs, flowers and veggies in vacant lots, abandoned bus stops and crack alleys were urban Johnny Appleseeds hoping to leave something beautiful in an otherwise desolate and depressing area. But author Barbara Pallenberg redefines Guerrilla Gardening as a method of obtaining otherwise pricey plants for free. Because I also happen to be a cheapskate, or as I usually like to call myself a frugal gardener, this book still appeals to me. That is, once I got beyond the book's title: Guerrilla Gardening: How to Create Gorgeous Gardens for Free. This is a fun read and I can't get over how useful the info is about how to propogate just about every plant you can think of. Thanks to the tips and hilarious stories in this book, my plant plunder pal Sharon and I have managed to already nab part of a prickly pear cactus that fell off inches away from where I'll be taking horticulture classes!
---

Slug Tossing : And Other Adventures of a Reluctant Gardener
Plant journals may sound dull, but if you find the right one to read you will not only laugh your butt off, but you'll learn a lot about plants as well. After reading Gayla's Plant Journal on YouGrowGirl.com, and then attempting to write my own, I was lucky enough to find this book crammed in the back of the gardening section of my favorite used bookstore. Slug Tossing : And Other Adventures of a Reluctant Gardener by Meg DesCamp is the hilarious saga of her attempt to grow flowers at her home in Portland. While she learns about soil, compost, feeding plants and so on, you do too. It's like taking a horticulture class where you spy on the worst student in the room. You'll find yourself giggling while reading about evil slugs, peat moss (as DesCamp says, "Peat moss. What the hell is peat moss?"), ladybugs and weed pulling. By the way, this is a great book to give as presents for your gardener pals.
---

People With Dirty Hands: The Passion for Gardening
What drives some people to obsess about their tomato plants so much that you wonder if they need a straightjacket as much as a nice gardening hat? Author Robin Chotzinoff went in search of eccentric gardeners who do more than grow veggies, flowers and herbs - they show us how magical a patch of dirt can be. In People With Dirty Hands, read about the Texas Rose Rustlers who find old roses growing in the oddest places (like graveyards), propagate them and then sell the flowers to people who aren't interested in raising genetically-altered blossoms. This book also has tales about ladybug farmers, big city manure delivery folks and more.
---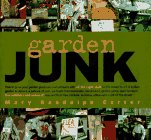 Garden Junk
I'm a big fan of junk! Whether it be creepy big-eyed dolls or funky tiki mugs, I love junk! So when I saw Mary Randolph Carter's book Garden Junk: How to Grow Your Garden Gloriusly and Uniquely with All the Right Stuff, I knew I had found the bible of garden books. Not only does the author show you everything she buys from flea markets and garage sales, she also tells you how much it was and what she did with it. Each chapter takes you into the realm of old tools, found flower art, bizarre pots and watering cans, funky pot holders, tacky garden hats, forgotten yard furniture, absurd-yet-endearing vases and hip-looking birdbaths. I love her addiction to kitschy amateur paintings of flowers and plants. And if you're just in the mood to create, Mary shows you how to restore old shutters, de-rust antique tools, build a gardener's bulletin board (one of my favorite projects), make a rake rack, makeover a windowbox and create a scarecrow from scratch! She also gives you the lowdown on how she transformed an old, boring barn into her fabulous Garden Hutte! Plus the lavish photographs and layout of the book makes it do double duty as a hipster coffeetable book. Be sure to check out Carter's American Junk Web site for more info about her fascination with all things junky.
More books by Mary Randolph Carter:
---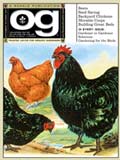 Organic Gardening magazine
OG isn't a book, but any gardener worth his/her weight in dirt should have a subscription for it. I've only been reading Organic Gardening magazine for a year now, but I must admit I've been learning a lot. In any given issue you can find vaulable info about composting, propagation, irrigation and pest control. Plus the magazine likes to profile eccentric gardeners and their tips for a happy, healthy garden. If you still aren't convinced this is the best gardening magazine around, read my longer, shameless review for more encouragement!
---

---