S T O R I E S:
Hellish Tales of Temping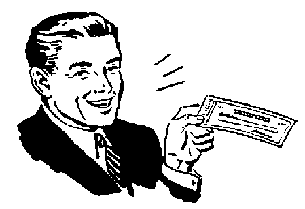 "T emp" is short for "slave." Never forget that and you'll always have a niche in the expendible, American workforce.
More and more companies are abandoning the idea of health benefits and retirement plans, and bear hugging the dream of employees they can instantly fire for something as idiotic as wearing blue nailpolish or leaving work early for suffering from food poisoning.

Some of the drone bees aren't taking to this treatment lightly even though they're desperate for a paycheck like the rest of us. I've worked with plenty of temps who coveted the supply closet as though it were the Emerald City populated with free envelopes and paper clips.
I've witnessed would-be V. Vales xerox 100 copies of their latest zine on the company copier during lunch breaks. Along with all the other temps, I've abused the postage machine to send large packages for free to my chums in London.
Ah...the stories I could tell...
Just let your tired, underpaid eyes read the following books full of stories about telemarketing, assembly work, answering the never-silent phones, dishwashing and more.
---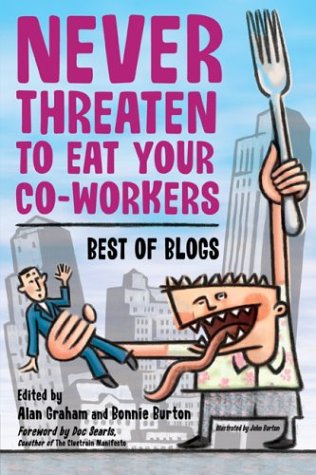 Never Threaten To Eat Your Co-Workers: Best of Blogs
Edited by Bonnie Burton and Alan Graham
Check out my hipster anthology of the best blog writing online today. Many of the stories in here are from people whose jobs provide endless tales of bizarre customers, unusual working environments, office pranks, and sometimes unemployment. To read more about the book -- including reviews, check out my Best of Blogs section here on Grrl.com.


Best of Temp Slave
By Jeff Kelly
You don't know what hell is until you've temped. Here's the best collection of essays and stories of workplace hell from Jeff Kelly's angry zine, Temp Slave.


F'd Companies
By Philip J. Kaplan
If you've ever been laid off by a dotcom, or just are interested in the ebb and flow of new companies, this is the book you should pick up. Philip J. Kaplan also runs the site Fuckedcompany.com too, so you can check out the latest gossip about failing companies every day.


Disgruntled : The Darker Side of the World of Work
By Daniel S. Levine
Read real-life horror stories in the workplace, then feel good about the jobs you don't have.


Fast Food Nation:
The Dark Side of the All-American Meal
By Eric Schlosser
Journalist Eric Schlosser did his research. He dug up the histories of everyone behind giants such as KFC, Taco Bell, Carl's Jr., McDonalds, Burger King, Subway, Wendy's and more. Plus the more you read the more you wonder why most of the facts in this book aren't common knowledge. Like the fact that many fast food workers are so frustrated with the job environment (low pay, not much chance of moving up the ladder) that they often rob the place later after work. In 1998, more restaurant workers were murdered on the job in the U.S. than police officers. Leading fast food chains often spend millions for extra security measures and cameras, but perhaps if they treated their workers with more respect (instead of someone they can instantly replace) and gave them a wage you could actually pay rent with, they might not have to fear their own employees. Schlosser talks extensively about how the fast food companies are so rabidly against unions that they often close down an entire store and fire all the employees when they suspect union activity.


Day Job: A Workplace Reader for the Restless Age
By Jonathan Baird, Carol M. Allen
Look into the day in a life of one customer support employee whose workers resemble cast members of the movie "Office Space."


Microserfs
By Douglas Coupland
Computer programmers search for the meaning of life, and possibly dates. From the same author who brought you Generation X and Shampoo Planet comes Miscroserfs, a tale of geekdom in the 90s. Read this book and you'll prbably get the closest look at what it's like when Bill Gates is your boss, and computers are your life.

Lay Low and Don't Make the Big Mistake:
The Lazy Person's Guide to Success on the Job
by Brian Harris
Any book that has a chapter on the art of calling in sick has got to be good!


Temporarily Yours
by Wendy Perkins
For some people temping can be downright glamorous.


You Don't Have to Go Home from Work Exhausted!
by Ann McGee-Cooper
Read tips on how to keep work from sucking the life out of you.
Bad Attitude : The Processed World Anthology
by Chris Carlsson (Editor)

"An anthology of writings and graphics from Processed
World, a San Francisco-based magazine established in 
1981 as a vehicle for presenting life in offices from 
the point of view of the workers. A collage of personal 
testimonies, humor, and critical analyses -- many 
well-written, pointed, passionate -- that cultivates 
a spark of revolt against tedium and conformism."


The Official Secretary's Guide to Sanity and Survival
By Cynthia L. Hooper
Bad bosses, crummy jobs, mean-spirited coworkers, Cynthia covers it all.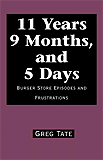 11 Years 9 Months, and 5 Days:
Burger Store Episodes and Frustrations
By Greg Tate
Get the inside scoop of what it's reallly like to work as a peon at Burger King from a guy who knows.


Can't find it on Amazon?
Try looking for it at Powells.com!
---
Hey, get back to
w o r k